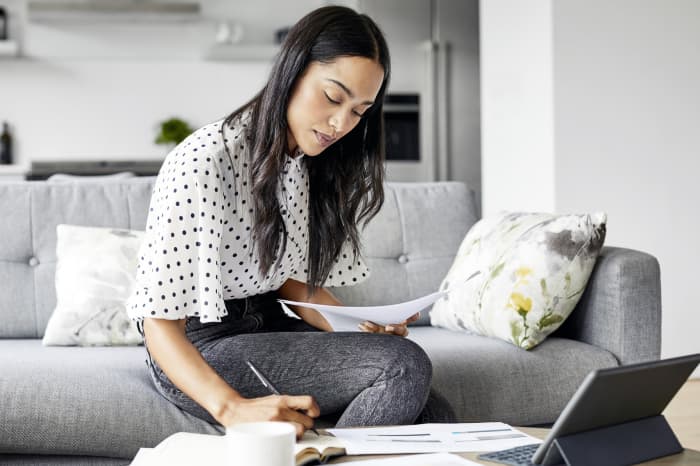 I wrote about saving money a lot in 2022, and that meant I saw a lot of ways that people suggest you save money. Most of them, quite frankly, were tired (yes, we all know we should make coffee at home instead of getting a pumpkin spice latte) and/or didn't save you a ton of money relative to how much time they took (sure, I could analyze the grocery store circular for an hour to save $3, but my time is worth more than that).  So if you're in the camp to rejigger your financial goals and ultimately save more in 2023, here are 15 ways wealth managers and financial advisers recommend accumulating some extra moolah:
1. Switch to a high-yield savings account — many are paying more than they have since 2009
Pros say you need an emergency fund of somewhere between 3-12 months of essential expenses. Good news on that front: Many online high-yield savings accounts are paying more than they have in over a decade. This interest, which may reach as high as about 4% and sometimes more, is basically free money added to your account.
By contrast, traditional savings accounts pay an abysmal 0.19%. In a savings account with $50,000 that pays 4%, the interest earned is about $2,000, versus, $95 in a traditional account with a 0.19% rate. See the highest savings account rates you may get now here.
2. You can contribute more to your 401(k) this year — do it. 
Individuals can contribute $22,500 to their 401(k) plans in 2023, up from $20,500 in 2022, and annual IRA contributions increase to $6,500. If you can max them, do it, pros say.
Even if you can't hit the max, at least get the match. "Ensure you're contributing enough to your employer's qualified retirement plan to receive the maximum matching contribution. Matching contributions are literally free money," says Bradley Nelson, certified financial planner at Point Loma Advisors.
3. Consider I-Bonds. 
"If you have extra savings beyond your emergency fund, it may be worth considering I-Bonds. These are paying over two times the highest bank interest rates, 6.89% versus the current competitive bank rates of 3%," says Autumn Campbell, a certified financial planner at Facet Wealth.  While placing cash in an emergency fund is top priority, if you're fully funded there, I-Bonds can be a wise way to save more money.
4. Home equity hit record highs. Ditch private mortgage insurance (PMI) if you can.
"If you're paying PMI on your home because you have less than 20% down, consider having your home appraised to see if the value has appreciated enough to where your equity is above 20%. Removing your PMI payment will free up a good amount of savings," says Alexis Woodward at Blend Wealth.
This is because home equity is at a record high right now, meaning many homeowners will likely be able to ditch PMI. Freddie Mac estimates that most borrowers pay between $30 and $70 per month in PMI premiums for every $100,000 borrowed.
5. Opt for a balance transfer.
A number of credit cards are now offering 0% interest for between 18-21 months. "If you have recurring credit card debt, it may be worth considering a balance transfer. Ignore the perks of points if you are focused on debt payoff. Reducing your interest could make a substantial impact on your payoff timeline" says Campbell.  Even if you don't want to do that, "calling your current credit card servicer and asking for a lower rate could even reduce your current interest rate by a meaningful amount," says Campbell.
6. Inflation is rampant. Don't buy a car or take that trip, if you can help it.
Inflation has spiked the cost of certain things — particularly cars, travel and food. While you've got to eat, you may not have to travel or buy that car. Overall, airfare rose 42.9% from September 2021 to September 2022, according to the US Bureau of Labor Statistics (BLS). Car and Driver reports that the average car price topped $47,000 in December of last year, up from $40,000 the spring before.
"If you're thinking about buying a newer car, compare the cost of that to keeping your current vehicle for another year or two. Compare the ownership costs of luxury, performance and SUV models to more economical alternatives. Maybe you'd enjoy regularly adding more to your investments than driving a high-cost vehicle," says Nelson.
And "with airfare, hotels, dining and gas all costing more than previous years, vacations are more expensive. Consider traveling with friends and other families and splitting the cost of Airbnb's or cabins," says certified financial planner Alexis Woodward at Blend Wealth.
7. Switch insurance providers.
Sure it's annoying to negotiate everything from your car insurance to your homeowners's insurance, but it can save you hundreds of dollars every year.  You can also inquire with your current insurer about discounts offered if you have a clean driving record, are interested in bundling your auto, home or renter's policies, have multiple cars or have memberships in certain groups like teachers, military, alumni and local organizations.
While you're at it, consider this: "Switch to paying premiums every 6 to 12 months to cut down the cost, but you do have to plan for the larger cost. Let's say your car insurance is $100 a month, but you could switch a pay yearly for a cost of $900. What you need to do is save $900 divided by 12, which equals $75 into an account to cover it yearly. One small step can lead to a few hundred dollars back in cash flow," says Woodward.
8. Get control of recurring expenses.
As MarketWatch Picks reported recently, when it came to monthly costs for cell phone, internet, movie streaming apps and more, Americans spent $213 dollars every month in 2022, according to a report from C+R Research. So it's time to take inventory of those expenses (come on, just look at your bank account or credit card reports from the last year and see what's up) and cut what you don't use enough.
And if you have cable and a bunch of streaming options, consider this: "Do you really need all those channels," says Nelson. "Maybe you could eliminate cable TV entirely and meet your entertainment needs through selected internet streaming services. In some cases, this could free up $100 per month or more to save or invest." Or Struthers says, "Use the ad version of streaming services."
9. Try 'cash-stuffing.'
Create a cash budget and stick to it. Marketwatch Picks recently highlighted the TikTok trend known as cash-stuffing, which is essentially a way to budget by only spending cash that you allot to different expenses.
"Most people who have cash budgets each month tend to stay within them. This doesn't mean a minimalist budget, but a realistic one that meets your needs. There is a psychological effect to seeing your bank account go down, versus a credit card that goes up, which creates a bit more pain when you swipe your debit card or have cash leave your hand," says Sandra.
And while you're at it, "deals" are pretty often fake. Stop listening to that language; do your homework first. Just because it's cheap, doesn't mean you need it. "Don't buy something just because it's a great deal. I once heard 'getting an elephant for a dime is a great deal,' unless you don't have a dime or don't need an elephant," says certified financial planner Steve Weiss at Buckingham Strategic Wealth.
In other words, truly consider the cost of something. "Something at a good price may not be such a good idea if it cuts too significantly into your budget," says Weiss. Amazon, for instance, changes prices on things a lot. You can check how good of a deal it is at CamelCamelCamel.  Google Shopping also allows consumers to track prices when activating the price tracking switch on their shopping tab.
10. Consider a home equity line of credit (HELOC). 
"If you own a home that has appreciated to have you owning over 20% of the value, you may benefit from opening a HELOC. This could be used to take out some of the equity in the home and pay off other higher interest rate debts. Not that this is not a suggestion to take on more debt, but rather to rearrange the debt to cost you have overall," says Campbell. 
Currently, rates on 20-year HELOCs are about 7.78%, which is lower than many personal loans, some of which have rates up to 36%. But, it's important to note that because you're putting your home up as collateral when you take out a HELOC, if you're unable to repay the loan, you run the risk of losing your home. Over 10 years, a $50,000 HELOC at 7.78%, versus a personal loan at 15% would save a borrower about $36,000. See the lowest HELOC rates you may get here.
11. Income matters to this equation, so consider it.
It's easier to save more when you make more. "Negotiate a new salary or new job," says Struthers – that is if you can. And consider side gigs.
Or think like this: Sell unused items. "If you have items around the house that are still usable ike clothing, appliances, outgrown children's items, tools or artwork that you don't use, it may be worth listing on one of the many secondhand sites or social media platforms to recoup some of the cost and reuse those funds toward something else that would bring you more joy," says Campbell. Sites like TheRealReal, eBay, Poshmark, ThredUP, Tradesy and more offer a variety of platforms where you can sell used items.
12. Build a bond ladder. 
"Building a bond ladder for cash flow can be a very effective strategy," says certified financial planner Mark Struthers at Sona Wealth Advisors. To build a 10-year Treasury bond ladder, for example, purchase 10 bond ETFs, one for each year of maturity over the next decade. 
13. Treat your bonus the way it deserves to be treated.
"When you get a bonus at work, immediately allocate a percentage to an IRA [or other retirement account]. It is a bonus, treat it as such. Bonuses should not be part of your monthly expenses," says Josh Chamberlain, certified financial planner at Chamberlain Financial Advisors. 
14. Know your hourly rate.
"When considering a non-essential purchase, translate the cost of the purchase into how many hours you'd need to work to pay for it," says R. Michael Parry, certified financial planner at Liberty Wealth Advisors.
15. Use safer strategies. 
Fraud costs money and time. Use credit cards, rather than debit cards and use two-factor authentication when you make online purchases to protect you from the cost and hassle of having to deal with internet fraud. "Never have your phone or computer automatically save your passwords to bank accounts or credit card sites online," says Parry.
The individual cost of traditional identity fraud had an average per-victim loss of $1,551 in 2021 and Experian reveals that financial losses from fraud rose 77% from 2021 to 2022, equaling more than $6.1 billion dollars.
The advice, recommendations or rankings expressed in this article are those of MarketWatch Picks, and have not been reviewed or endorsed by our commercial partners.
Based in New York, Stephen Freeman is a Senior Editor at Trending Insurance News. Previously he has worked for Forbes and The Huffington Post. Steven is a graduate of Risk Management at the University of New York.