A black flag whipped in the wind like the Jolly Roger near U.S. 24. But the fabric shows no skull and crossbones, and there is no pirate ship below. Instead, it marks a restaurant and the flag reads "BBQ."
Roy's Crew BBQ, a fast-casual food joint, opened in Woodland Park last month offering a loaded menu of meats including pork ribs, pulled pork and brisket, along with a variety of hearty side dishes such as mashed potatoes, macaroni and cheese and beans.
Operated as the Circle H Smokehouse for close to 40 years and shut down during the pandemic, 720 Browning Ave. has again come to life with the savory smell of smoked meat wafting out its doors.
But for the owners, Roy Cassada, 46, and his wife, Stephanie, 43, to open a restaurant there the stars had to align more than once.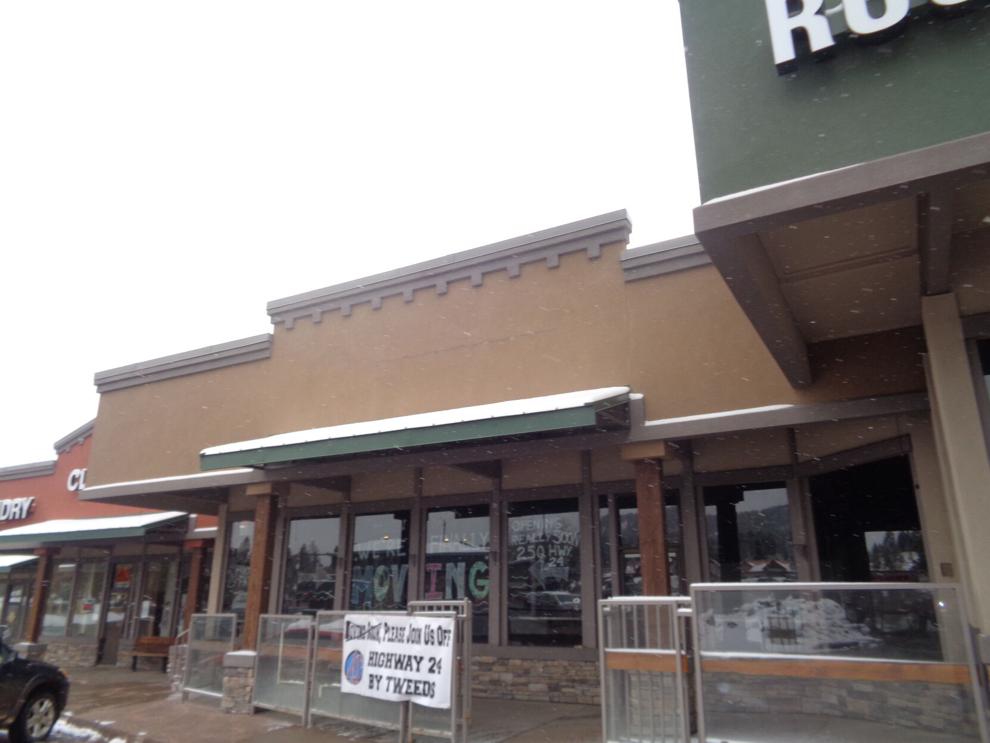 Roy, originally from Texas, didn't spend more than a year in college at New Mexico State University in Las Cruces before he began working for a friend's father's barbecue restaurant and catering company.
"He taught me everything," Roy said. "And he actually gave me my sauce recipe."
It was during a visit to Hobart, Okla., that Roy found a vacant building with boarded-up windows that he bought and turned into his first barbecue restaurant.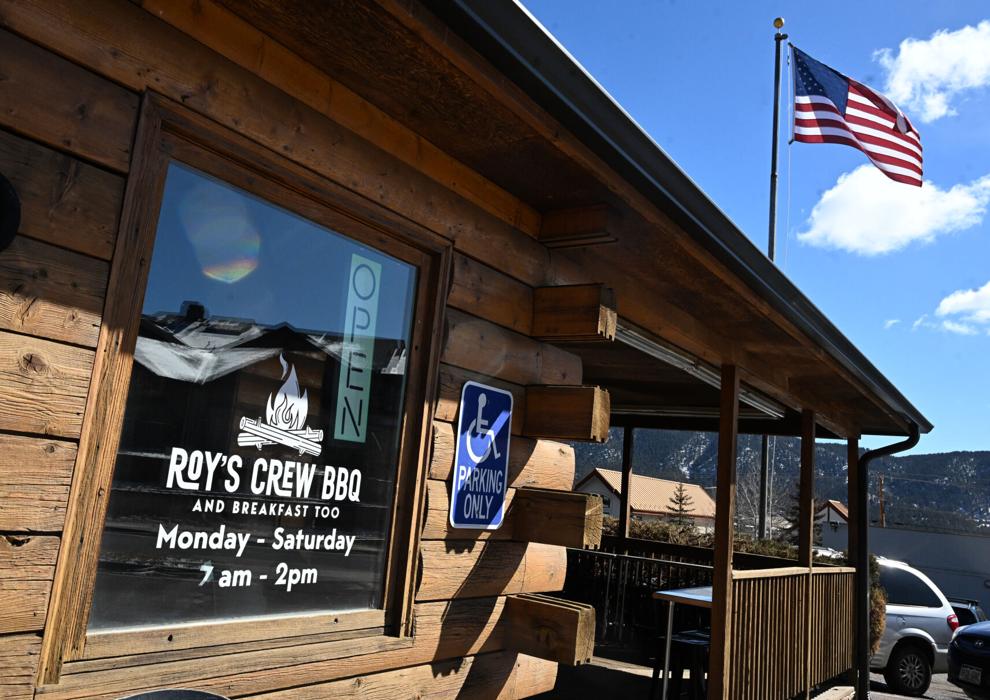 While operating the restaurant, Roy met Stephanie, a waitress he hired.
"It was a little bit of a small-town scandal," Stephanie said.
"We went from being co-workers to dating, to being engaged. We got married, we bought a house a couple of months later. … After we moved into the house, we found out we were pregnant with a child."
The Cassadas have eight children ranging from 3 to 23 years old.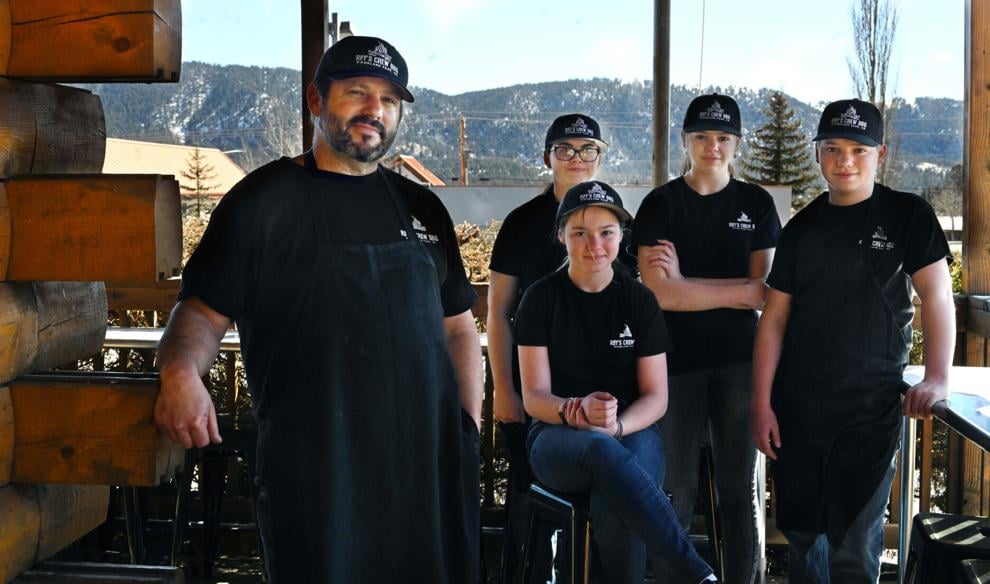 In 2005, the couple shut down their restaurant and Roy began his own insurance agency in Oklahoma City.
"Everybody thought we were crazy when we left the restaurant," Roy said.
He ran his insurance business for 17 years, and every so often, he and his family would visit Colorado.
"We've visited almost every place I can imagine up here," Stephanie said. "Roy, and our oldest son Adam came up here (to Woodland Park) I think maybe in 2017 to go on a fishing trip, and they just fell in love with the town."
It was not long after that Roy decided it was time for a change.
"I'm not built to sit around," Roy said. "That's kind of what the insurance deal is like — in the office sitting around."
Roy and Stephanie sold the insurance business and their home in Oklahoma to move to the City Above the Clouds. All the while, they eyed real estate, including 720 Browning Ave., in hopes to jump back into the restaurant business.
Just weeks before Roy was about to begin a new job with a food distribution company in December, he got a call from the smokehouse property's real-estate agent; they were ready to sell.
"It just really worked out like perfectly," Roy said. "There were so many hurdles like selling the insurance agency, selling our house … so everything worked out and then this worked out, too. So, we're like, 'This is kind of meant to be.'"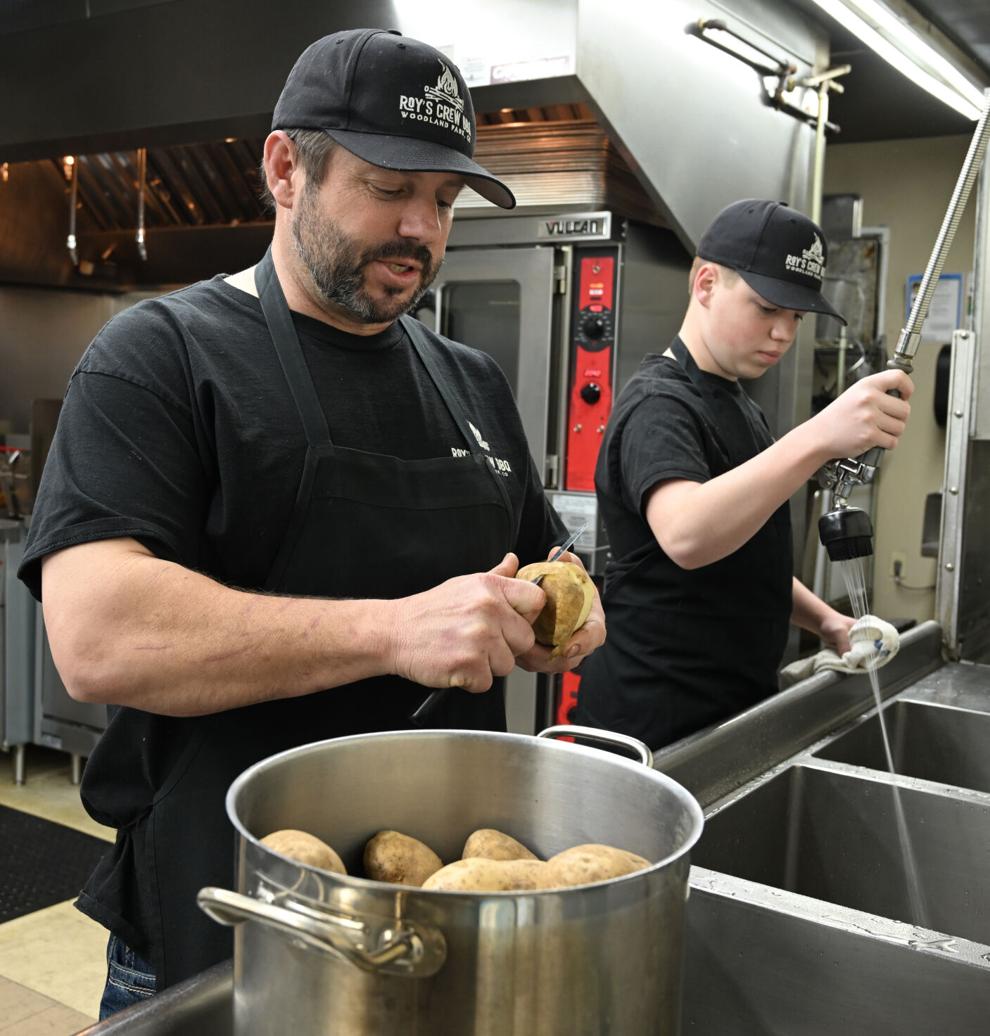 In preparation for opening, Roy tested his food with the employees at Foxworth-Galbraith Home Improvement Center catty-corner to his restaurant.
"Before he opened, he brought trays of samples," Beth Lennard, a cashier at the center, said. "I've been up here nine years. I miss the original barbecue place. It's really good to have them open again."
Roy travels less than two blocks down the street to the restaurant where he starts smoking dozens of pounds of meat at 3:30 a.m. Monday through Saturday.
"Lunch has been absolutely insane," Roy said of the traffic so far.
The restaurant offers breakfast and lunch from 7 a.m. to 2 p.m. six days a week including menu items such as the Tractor Man, which involves a pile of several types of meat and is a reference to a friend of Roy's from Oklahoma who performed tractor work.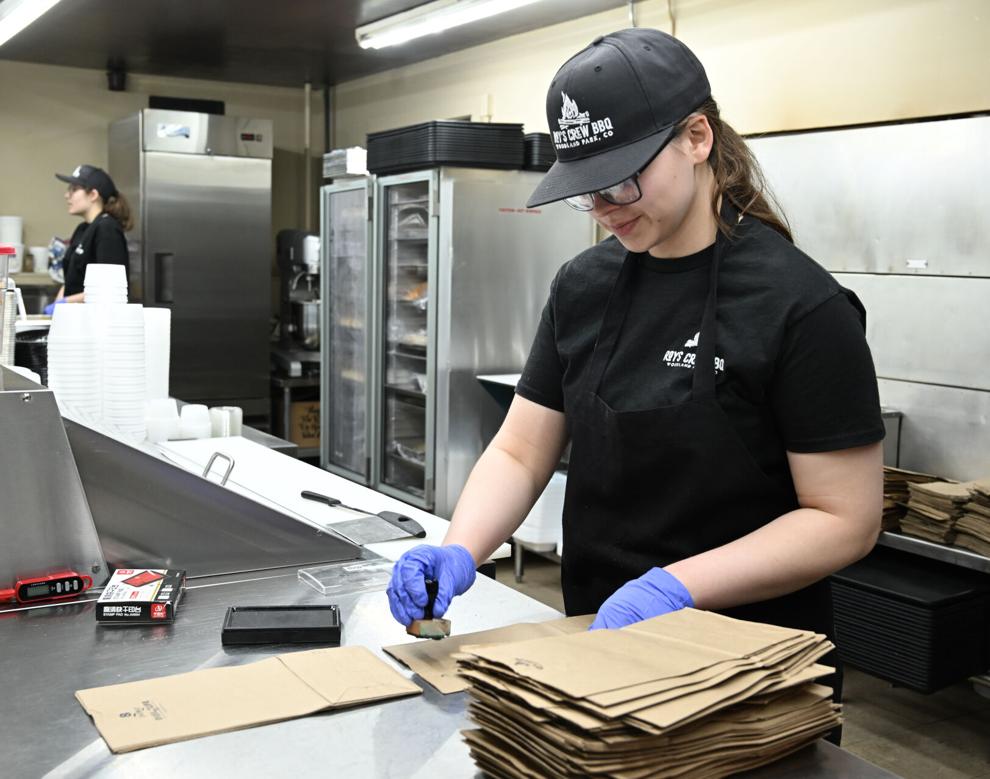 A bright green-and-yellow John Deere tractor sits behind the building in sync with the theme.
Roy's oldest daughter Madilynn, 19, handwrote the brightly colored menus that line the restaurant's walls. His daughters Penelope, 16, and Isabella, 12, and his son William, 14, work at the eatery during the hours they aren't home-schooled by Stephanie, who helps run the administrative side of the business.
"Roy and I work very well with each other," Stephanie said. "We have a fun, very bantering relationship. So, we just bring that into the workplace, and I think it keeps it light and fun."
The Cassadas also have nearly 20 other employees, many of whom are high school and college age, and work a few hours every week.
Tanner Coy, owner of Tweeds Fine Furnishings in Woodland Park, supplied the restaurant with some of its decor, as did Woodland Square Vintage Market and other local businesses and artists.
"Having a business like theirs is valuable; it provides jobs. It generates revenue," Coy said. "We're thrilled to have them here — even if that means increasing my exercise regimen."
Clinton Mora is a reporter for Trending Insurance News.  He has previously worked for the Forbes.  As a contributor to Trending Insurance News, Clinton covers emerging a wide range of property and casualty insurance related stories.