Ontario MPPs are speaking out against the years-long problem of "postal code discrimination," which has seen auto insurance premiums in the province exceed those in the rest of the country, with outlying parts of Toronto like Etobicoke, Scarborough and North York being hit most severely, two reports find.
Per the November Auditor General of Ontario report, Ontario's average auto insurance rate is the highest in the country. However, the report found significant variation with obtained quotes indicating that the same individual might pay $1,200 a year in premiums if they lived in London, but $3,350 per year if they lived in Brampton.
This discrepancy has been the focus of some government action, with Ontario NDP auto insurance critic Tom Rakocevic (Humber River—Black Creek) noting that three times now a bill has been tabled to treat the GTA as a single territory for pricing, though the Doug Ford government, he said, has not prioritized or passed the bill. Its current incarnation, Bill 12, passed first reading in late August.
"This is a conversation that's been happening for a long time, the NDP has been talking about this for years and years," he said. He added that he's been fighting on this issue even since before his 2018 election.
The auditor general report estimated that residents in the GTA could see a reduction of average premiums by $543 if territory wasn't a variable in premium calculation, while those in Ottawa-Carleton might see a knock-on price increase to subsidize this hypothetical change.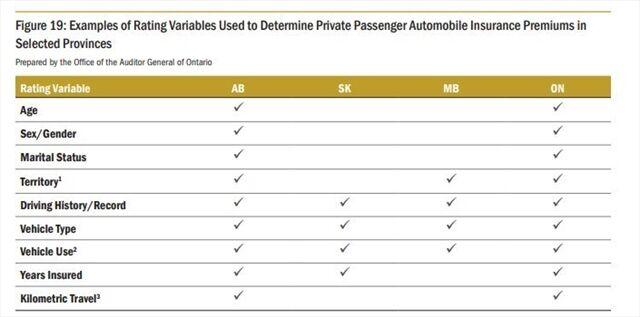 This graph from the Auditor General of Ontario's November report denotes how different provinces calculate auto insurance premiums. | Alice Chen screenshot
A report from lowestrates.ca found of the cities in Ontario, Brampton pays the most auto insurance premiums at 62.5 per cent more than the provincial average, while North York, Scarborough and Etobicoke follow closely after, at 44.3 per cent more, 43.7 per cent more and 29.4 per cent more than the average, respectively.
These findings did not surprise Steven Harris, a lowestrates.ca expert, given that territory is a "key role" in auto insurance rates. He said, too, that there was a connection between population density and accident risk, which might explain some of the price discrepancy.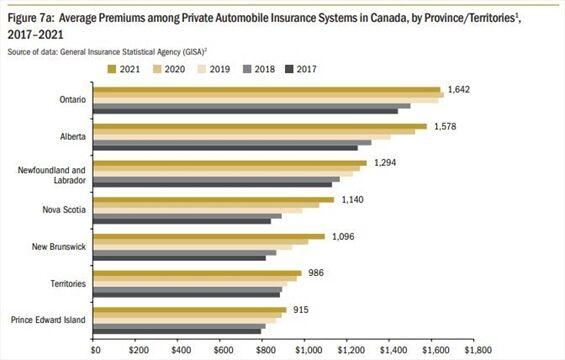 This graph from the auditor general's November report compares the average car insurance premiums by province and territory. | Alice Chen screenshot
This is all despite the fact the auditor general's office found Ontario's automobile injury rate to be lower than other provinces. For instance, Ontario's 2022 injury rate was lower than all other provinces except Alberta.
"The rate of auto insurance, the profit margins have hit, in the last few years, 27 per cent while we're paying the highest rates in the country," Rakocevic said. These rates, he continued, have gone up at double the rate of inflation year-over-year despite the low collision and injury rates in the province.
"Residents of Scarborough and many other GTA regions certainly feel the pressure that postal code discrimination in auto insurance puts on their personal finances," NDP MPP Doly Begum (Scarborough Southwest) said in an email interview.
Like Rakocevic, she said this issue has been impacting drivers for years.
"Insurance companies are continuing to make record profits on the backs of hard-working Ontarians, many of whom are already struggling to make ends meet."
In a press release, Rakocevic criticized the current Ford government's inaction.
"If this government was serious about tackling high auto insurance rates, they would have already passed my bill to end postal code discrimination instead of letting auto insurers keep gouging people," he said.
A Ministry of Finance spokesperson said in an email that the provincial government is working with the Financial Services Regulatory Authority of Ontario (FSRA) to "ensure consumers are being treated fairly."
It cited $1.8 billion in auto insurance relief given since March 2020. Insurance companies were widely reported to have offered discounts on premiums during the height of COVID-19 lockdown measures.
"With regards to insurance rates based on postal codes, this is known as territorial ratings," the spokesperson said. "The government issued direction to FSRA in April 2022 to review its territorial framework and report on its findings.
"The government is looking forward to reviewing FSRA's findings once FSRA completes its ongoing work on the matter."
— With files from Qiam Noori
STORY BEHIND THE STORY: Reporters Alice Chen and Qiam Noori were informed of the high auto insurance rates in their respective print markets. So together they decided to put together stories diving into these issues and how they impact average community members.
Based in New York, Stephen Freeman is a Senior Editor at Trending Insurance News. Previously he has worked for Forbes and The Huffington Post. Steven is a graduate of Risk Management at the University of New York.